WELCOME!
Sharing no relation to any
diamond manufacturer
since creation.
"My family is one of
nature's masterpieces."
-Fortune Cookie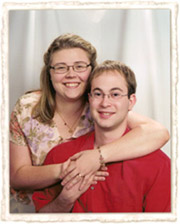 Administration
[password required]

SITE NEWS | Displaying first seven news items. Show All
2008-10-21
I've decided to update the site for the first time in ages. The SQL database was broken for some time when the server was upgraded. Digression: users were disassociated with the databases so there was no access. As I started updating this news clip, I just realized that this is exactly two years from the last update! Woot.

The big news: I moved. I'm currently living in Fort Collins, Colorado. I've taken a new job with Intel working on the Itanium project. Life is good in general. Drop a line and say hello!
2006-10-21
I have some new photos of the wedding to share! Ben has graciously allowed me to post a link to his shots from the wedding weekend. These include pictures of the rehersal dinner which were previously unavailable. Thanks Ben! Photos.
2006-08-07
Couple things to share since I haven't posted in so long.

First of all, the photos from the wedding are in progress. It'll likely be a few more weeks before albums are posted here. I've got an enormous amount of photos to parse through (literally thousands). Thank you to everyone who shot a photo and sent it along! We're going to have one heckuva collection. Incidently, if you haven't sent photos you've taken yet, feel free to send an e-mail to the photos account on this site. (E-mails are never displayed publicly as that just invites spam.)

Second note, I've been sold. I'll be a former Intel employee in November. Marvell is the acquirer for my group. I'd blog about some of the details, but that's probably a bad idea. The jist is - it's a good move for me, and I'm staying in Phoenix. About 400 of my co-workers were affected by this in the Phoenix area (I'm pretty sure that's public knowledge by now).
2006-04-29
Shannon and I are married! I am a very happy man today!

I know that family and friends will be checking the site to see photos. I don't have my personal album up yet - I didn't take any photos, busy you know. So for now, you can browse the nearly complete album over at Walt Palmer's website (our photographer). We're the good looking couple. Photos from the disposable cameras and from family and friends will be shared here as soon as I can get them up.
2006-03-12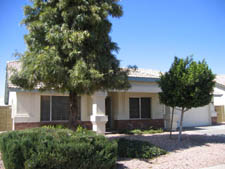 I have completed the house gallery. We're both very excited to share these photos with you all. Please take a tour at your leisure.
2006-02-26
Another announcement! Today, Shannon and I closed on a house in Chandler, AZ. It's a three-bedroom, two-bath ranch settled in the southeast Phoenix valley. More details will come this week as I add photos of the house inside and out!
2005-05-30
I'm very happy to announce the engagement of Shannon Buckland to myself! I popped the question back around Valentine's, and couldn't be happier with the response. To the left is our engagement photo. We're planning an April wedding in Colorado, and more details will follow.